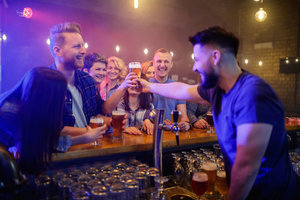 Bars, restaurants and nightclubs can all be noisy enough to damage hearing in unprotected workers
Noise-induced hearing loss is the most commonly reported occupational disease in Europe with more than 13 million employees reporting that they are affected by it.
However, recent checks by the Health and Safety Authority(HSA) found that there was limited awareness of the effects of loud amplified music on hearing and the precautions required to manage the risks.
While the physical layout of many venues facilitated directing the noise away from staff, for example, bars were positioned away from dance floors, all venues visited by HSA inspectors relied on personal protection equipment (ear plugs) to protect workers especially workers who move throughout such venues.
Hearing loss can be prevented if employers and workers collaborate to control noise exposure.
Therefore, training and awareness on the correct use of ear plugs is crucial.
Noise is produced in many workplaces especially in the music and entertainment sectors. Employers responsible for such venues should ensure that workplace noise risk assessments are carried out and controls implemented to comply with the legislation. It should be possible to meet customer entertainment needs while adequately protecting workers with suitable precautions.
For additional information on controlling the risks visit www.BeSMART.ie, our online risk assessment tool and check out our guidance: Noise in the Music and Entertainment Sector Information Sheet