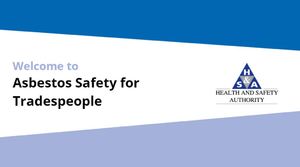 This course provides information on asbestos, including how to protect yourself and others from asbestos exposure. Completion of this course does not in any way enable you to work with asbestos containing materials (ACMs).
HSA Online eLearning Training Portal
On successful completion of this course you should be able to:
understand what asbestos is
outline the health effects of exposure to asbestos
recognise potential asbestos containing materials (ACMs) in the workplace
outline the steps to take to protect yourself from exposure to asbestos.
Course Format
The course consists of 7 parts:
Part 1: Introduction
Part 2: Understanding Asbestos
Part 3: The Health Effects of Asbestos Exposure
Part 4: Recognising Asbestos in the Workplace
Part 5: Protecting yourself from Asbestos Exposure
Part 6: Assessment
Part 7: Summary
Course duration: 30 minutes
Note: You can stop the course at any time and come back to it at a later stage, taking up where you left off.
Course setup: This course requires a computer/device which is connected to the Internet and is running a web browser. For optimal user experience, this course runs best in Chrome. It contains audio so you will need to use headphones or speakers plugged into your computer/device to listen to it.