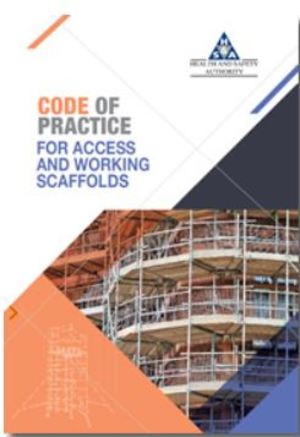 The aim of this revised Code of Practice is to provide practical guidance to scaffold erectors, contractors and users of scaffolding on the requirements and prohibitions set out in the relevant statutory provisions.
The key changes to the COP from the previous 2008 version are:
• the requirement that all scaffolding requires a design (allowing for proprietary system scaffolding manufacturer's designs to be used for standard configurations and other standard designs, such as TG20, to be used as appropriate);
• the increased emphasis on the requirement to identify if a bespoke design scaffold is necessary at the earliest possible stage of a project and for the Project Supervisor Design Process to co-ordinate this temporary works design with the permanent works designer;
• the introduction of the Temporary Works Coordinator to assist the project supervisors in their duties including helping effective communication and co-ordination between the PSDP, designers, the PSCS and the contractors involved in the temporary works/scaffolders;
• further requirements for prioritising collective protection measures for scaffolders while erecting, modifying and dismantling scaffolding. The use of leading guard rails and scaffold step systems is introduced and the removal of the previous allowance for scaffolders to work off partially boarded decks;
• the removal of allowance for a non-scaffolder to remove handrails under certain circumstances such as when loading materials, and the emphasis on providing appropriate gate systems at loading bays that maintain edge protection to workers during loading operations;
• the requirement that stairway access should be provided where it is reasonably practicable to do so, particularly where there is a high usage rate and/or where materials or tools need to be carried frequently by hand;
• the requirement for using flame retardant sheeting material for sheeting scaffold that will have hot works carried out in or near it, or that is erected near the public;
• requirements to ensure all decking boards are adequately secured and emphasis on the risks of displacement of boards due to high winds;
• reduction of maximum gap between scaffold deck and the structure from 300mm to 225mm;
• requirements for the inspection of decking boards for defects and for the correct storing of timber boards when not in use;
• clarifications around training of persons inspecting scaffolding;
• technical updates with regards to references to current legislation and standards;
• provision of new template GA3 form for scaffolds incorporating 'in-use' checklist;
• removal and/or replacement of some illustrations.